For my commentary and the url of the CBC News Story, scroll to the bottom
British Columbia
Police believe B.C. mom took 2 children 'off the grid' after alleged abduction
RCMP say they suspect alleged abduction of Aurora and Joshuah Bolton was preplanned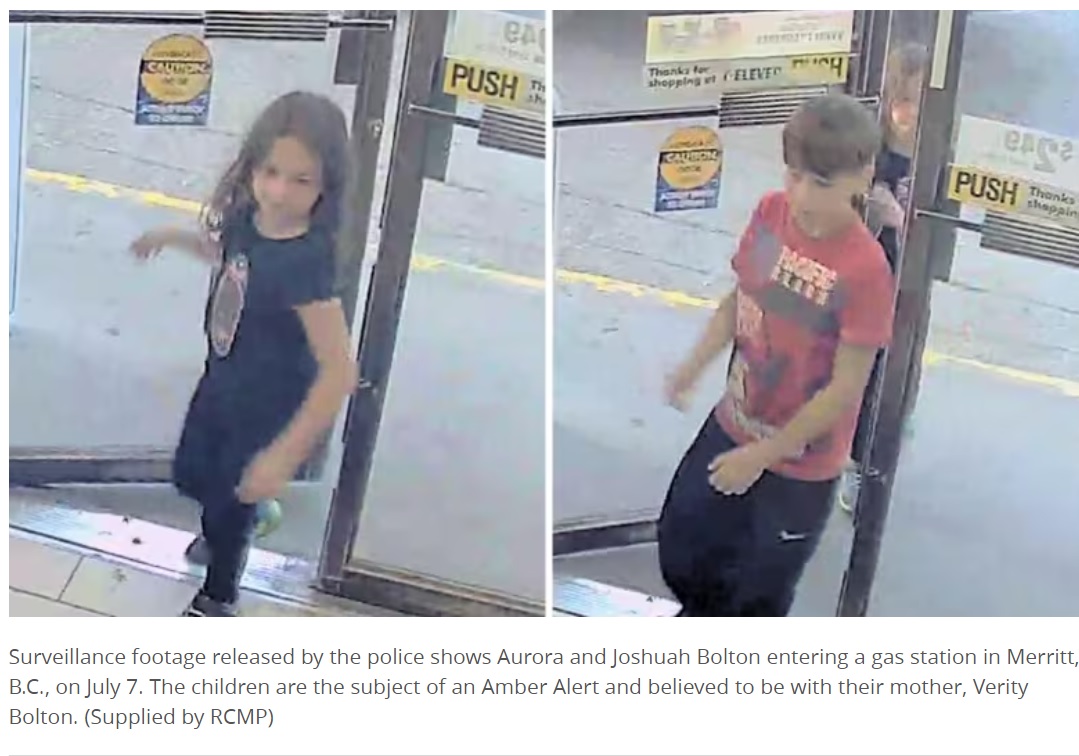 Investigators believe a Surrey, B.C., mom preplanned the alleged abduction of her two children and has moved "off the grid" with them, her boyfriend and her father, according to RCMP.
The new details about the search for eight-year-old Aurora Bolton and her 10-year-old brother Joshuah were released Monday, five days after an Amber Alert was issued because of their disappearance.
Mother Verity Bolton is suspected of abducting the two children since she failed to return them to their father after a planned vacation. Police say she is believed to be travelling with her boyfriend, 53-year-old Abraxas Glazov, and her father, 74-year-old Robert Bolton.
According to Monday's RCMP update on the search, investigators have information suggesting the group is living in trailers in a rural area somewhere.
"The public is going to play a major role in locating Aurora and Joshuah," Sgt. Tammy Lobb said in an RCMP news release.
"We need the public to be alive to the information and photos we have shared and to be our eyes and ears and continue to call us with any tips and possible sightings."
Police say Verity Bolton met up with her father on June 30 at his home in Chilliwack, and he has not been back since. Robert Bolton has health problems and may seem confused or disoriented, the news release says.
Glazov, who is from Nelson, is an outdoorsman with connections to the Deadman Valley and Vidette Lake areas, RCMP say, and he has a history of living "off the grid."
Police say they've received more than 180 tips about the children's whereabouts since the Amber Alert began last Wednesday. There have been no confirmed sightings of Aurora or Joshuah since July 7, when they were seen at a gas station in Merritt.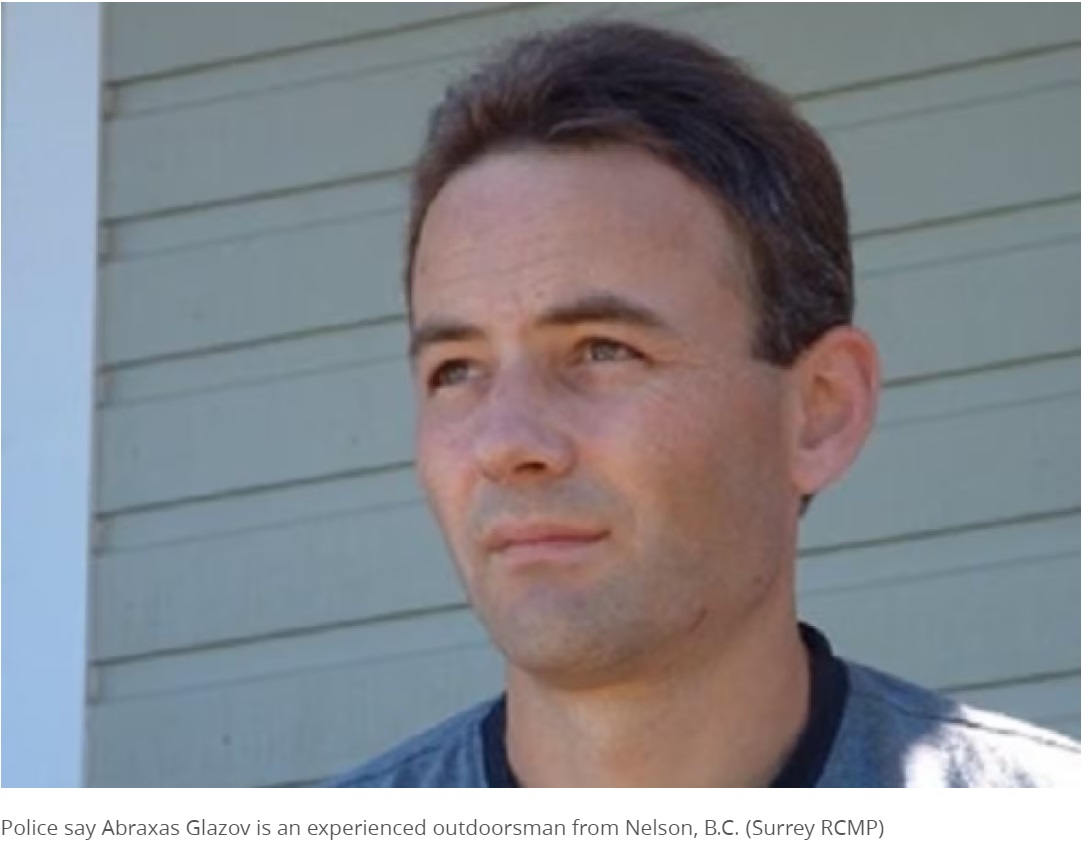 The last confirmed sighting of Verity Bolton was at a grocery store in Kamloops on July 15.
Investigators say she is driving a dark blue Dodge Ram 2500 truck, and she has been seen towing a number of trailers.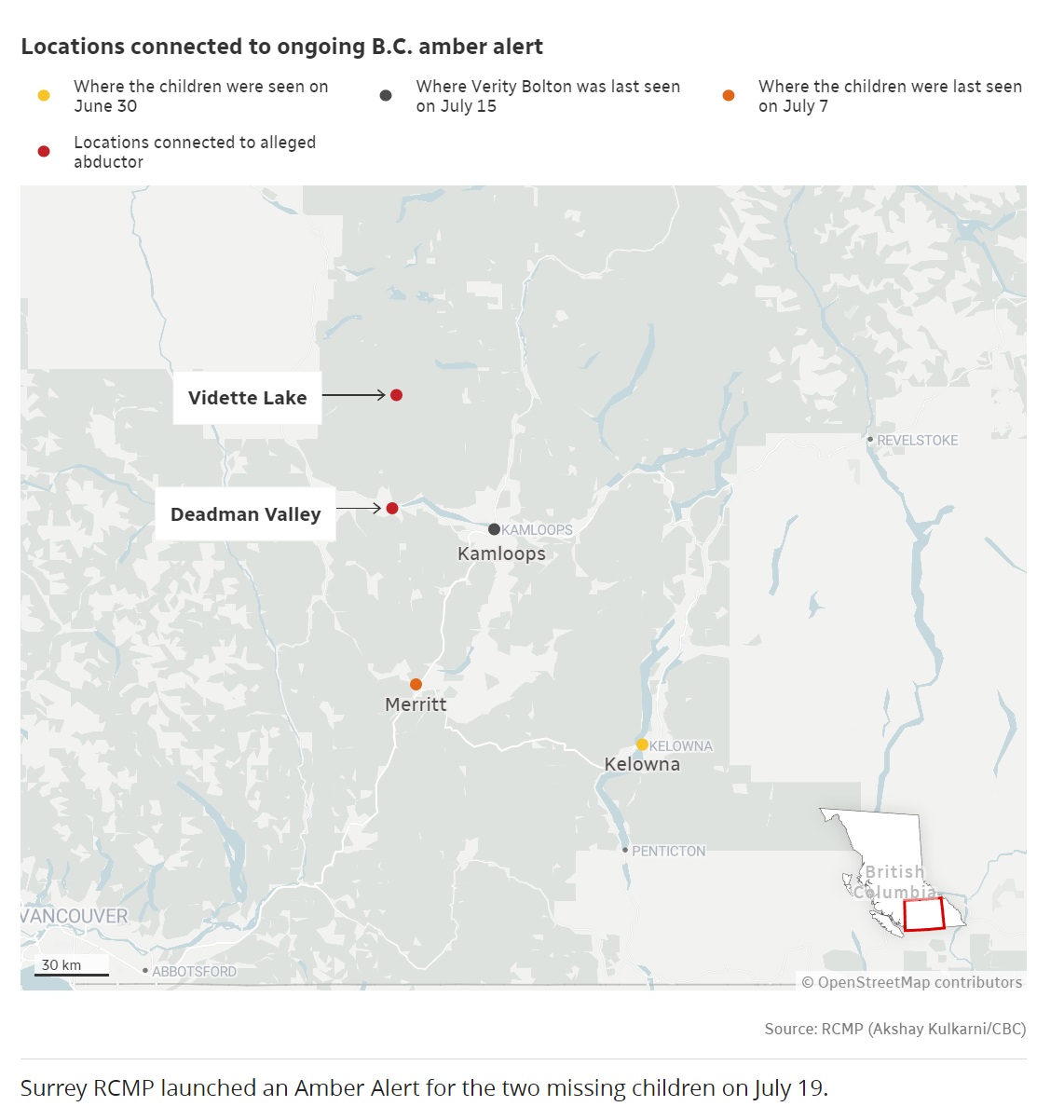 Police said anyone who sees the truck or the children is advised not to approach them and immediately call 911.
Verity is described as a white woman standing five feet two inches tall and weighing 119 pounds. She has brown hair and brown eyes and usually has long hair tied back in a ponytail. She was last seen in black cargo pants and a black sweater.
urora is described as three feet 11 inches tall, weighing 55 pounds, with brown hair and brown eyes. Her left front upper tooth is chipped, according to police, and she has small freckles on her face.
Police say she has shoulder-length hair, slightly curled and likely braided. She was last seen wearing a blue dress with coloured flowers on it.
Joshuah is described as four feet 10 inches tall, weighing 70 pounds, with brown hair, blue eyes and short hair in a buzz cut that is growing out. He was last seen wearing shorts and a T-shirt.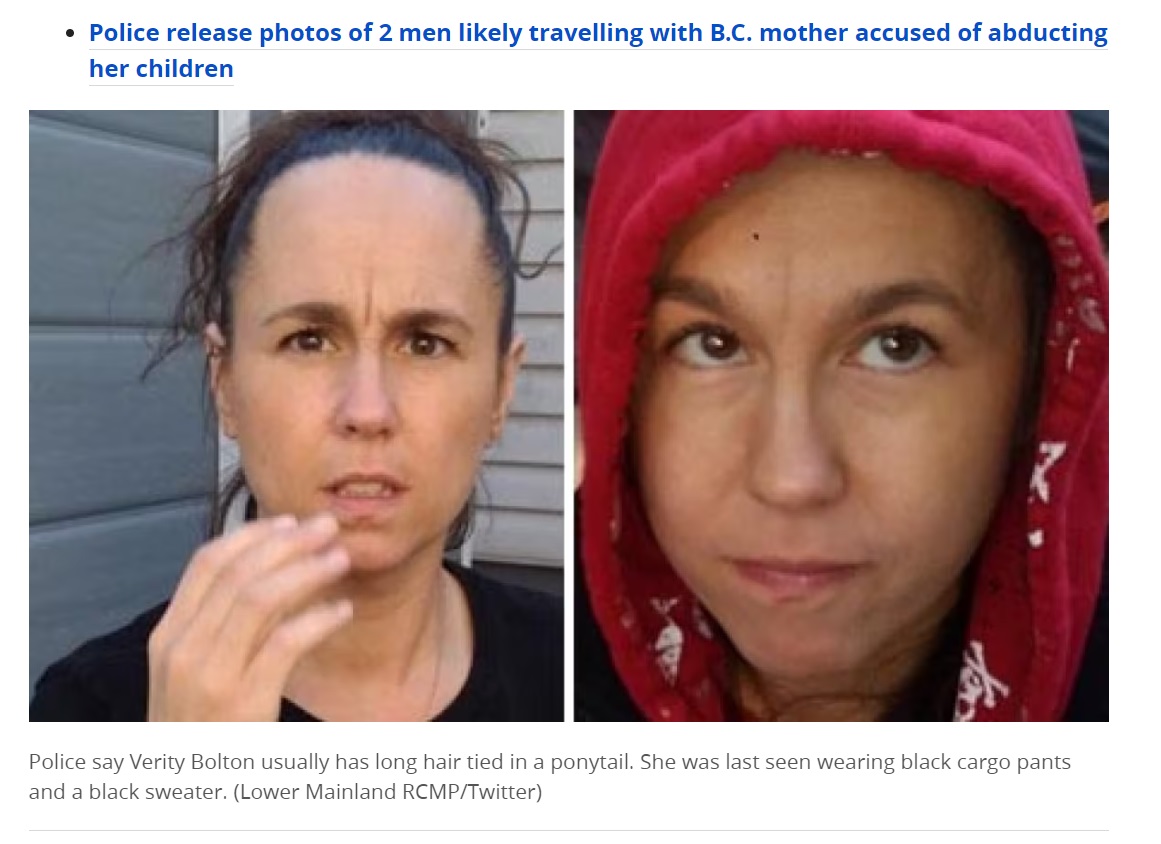 https://www.cbc.ca/news/canada/british-columbia/amber-alert-surrey-rcmp-monday-1.6916522
Comments
There is very obviously a lot more to this story than what we read here.
Its unusual because 99% of the time, contested family court cases in Canada result in a mother getting
what she wants. Canadian Family Courts are generally in denial as to mother's mental health problems,
mothers domestic violence towards the father and or children.
If I rub my Crystal Ball, my impression from the pictures is that Verity Bolton has a mental health problem and a personality disorder
and its probably those factors that resulted in the father getting custody of the children.
That means we are probably dealing with a mother who is incapable of support the childrens' relationship with the father
and highly toxic. This means she is probably suffering an anti-social personality disorder, a borderline personality severely lacking
in empathy for others. She is also manipulative and able to use others to get what she wants.
Facebook reports that Robert Bolton suffers from dementia, and there are claims Verity has take his cell phone, drained his bank accounts.
If this is true, we can add elder abuse to the list of habits of Verity Bolton.
See Aim Zabeth the aunt of the missing children
The pictures show Verity Bolton wearing all black, including a black cap, and large black sunglasses pushing a shopping cart filled to
the brim. Judging by her shopping, she or her male companion Abraxas Glazov won't be able to stay away from a supermarket for very long.
The odds of Verity Bolton being able to stay living off the grid for more than a few weeks is entirely remote.
I checked on CanLii and there are no reported cases involving these people.
RCMP TIP LINE 614 599 7676