Pierre Poilievre drops the glasses as part of an image revamp
'Whether or not I wear glasses, I have the best vision for the country,' Poilievre says
John Paul Tasker
CBC News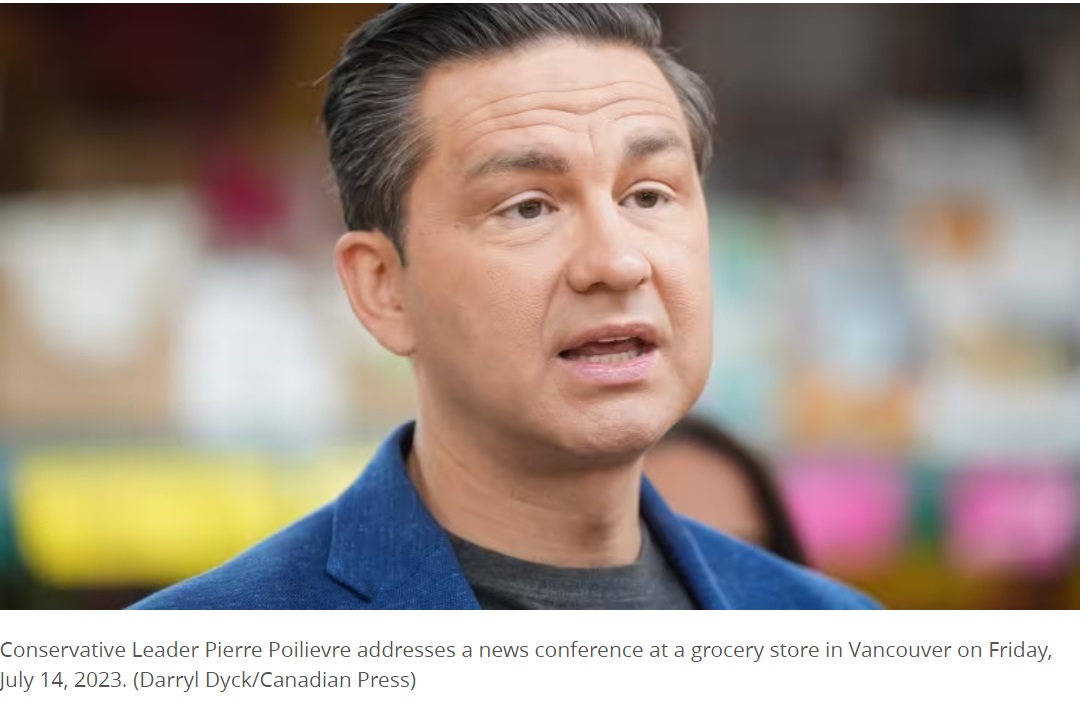 Conservative Leader Pierre Poilievre is sporting a new look after the party underperformed in a series of recent byelections — a makeover the Tory leader says is driven by fashion input from his wife.
Poilievre has followed a strict business dress code in the nearly 20 years he's been on Parliament Hill.
Rarely seen without a tie while carrying out his official duties, Poilievre has always shown a fondness for navy blue suits, the favoured uniform of both Bay Street and federal politics.
Until recently, the Tory leader wore glasses. He's left them behind as he travels around the country on a summer tour to highlight Prime Minister Justin Trudeau's perceived failings.
The new look took effect shortly after the party narrowly held the London-area riding of Oxford, Ont. — seen as a Conservative stronghold — while putting up a poor showing in a potentially winnable suburban seat, Winnipeg South Centre, in the June byelections.
Speaking to reporters at a press conference in Niagara Falls, Ont. on Wednesday, Poilievre acknowledged he's undergone a modest makeover.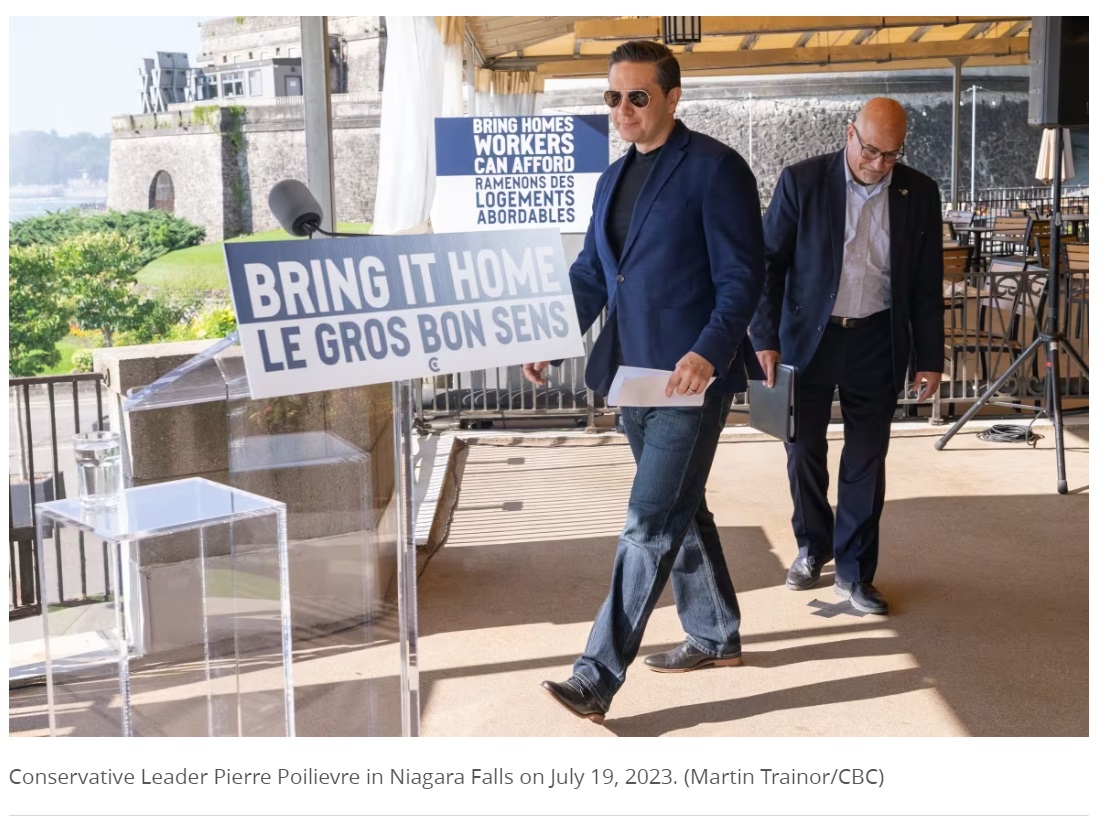 Dressed in a pair of bootleg blue jeans and wearing aviator sunglasses like those worn by Tom Cruise in the Top Gun movies, Poilievre said his wife, Anaida, thinks he "looks better without glasses so I have to keep her happy first and foremost."
WATCH: Poilievre gets a new look: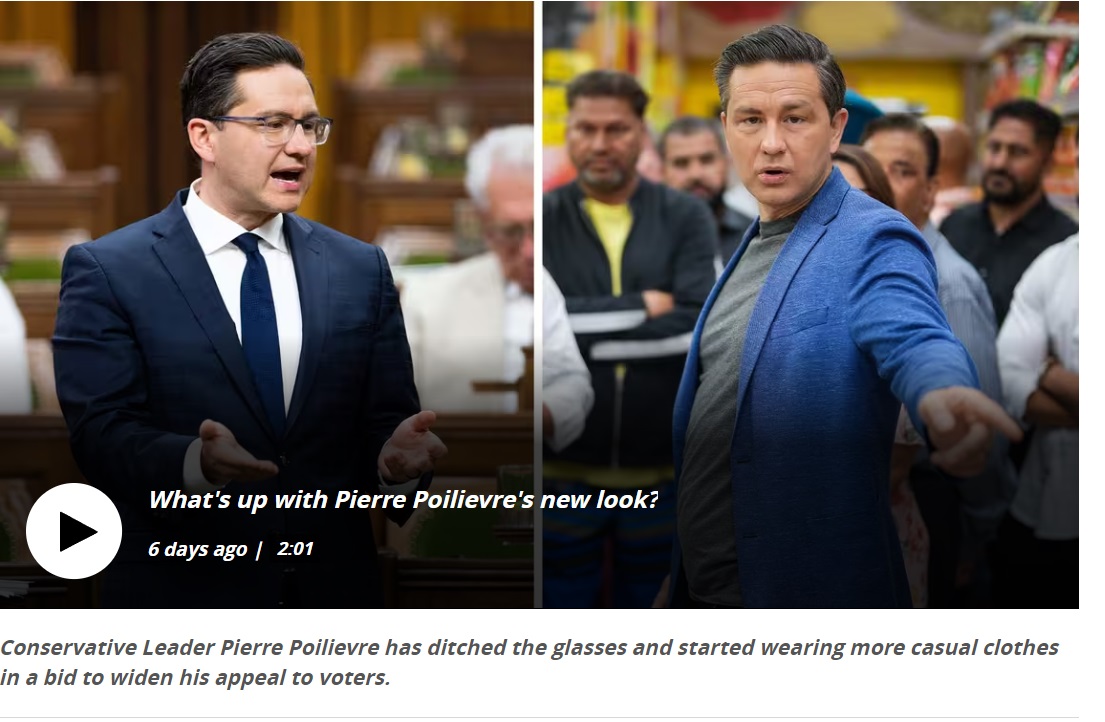 It's not just the clothes. Poilievre, known for sparring with reporters, also accepted a follow-up question from CBC News about his image revamp.
"Normally we don't allow supplementary questions," Poilievre said, pointing to the majestic waterfall behind him, "but it's such a beautiful place — you've softened my heart."
"Whether or not I wear glasses, I have the best vision for the country. A vision for lower cost, more affordable groceries, safer streets. That's the vision Canadians want. Let's bring it home," a smiling Poilievre added, using his campaign slogan.
A spokesperson for Poilievre didn't respond to a request for further comment.
Chad Rogers is a longtime Conservative strategist who has known Poilievre for years. He said Poilievre isn't strictly a buttoned-up politico.
Poilievre follows CrossFit, a high-intensity fitness regimen, and kicks back in casual clothes with his friends and close confidants, Rogers said — a side of the leader that's not well known to voters.
Trudeau has 100 per cent recognition in public opinion polls, while Poilievre is a lesser-known figure, Rogers said. Poilievre has to define himself before his opponents do it first, he added.
"Pierre has a work persona. He wears a suit and tie and glasses and looks all business when he's on the floor of Parliament. He looks pretty different when he's out, you know, rolling a 200-pound truck tire," Rogers said in an interview, referring to a CrossFit exercise.
"I don't think Pierre Poilievre has a new look. I think we're just looking at Pierre Poilievre more frequently."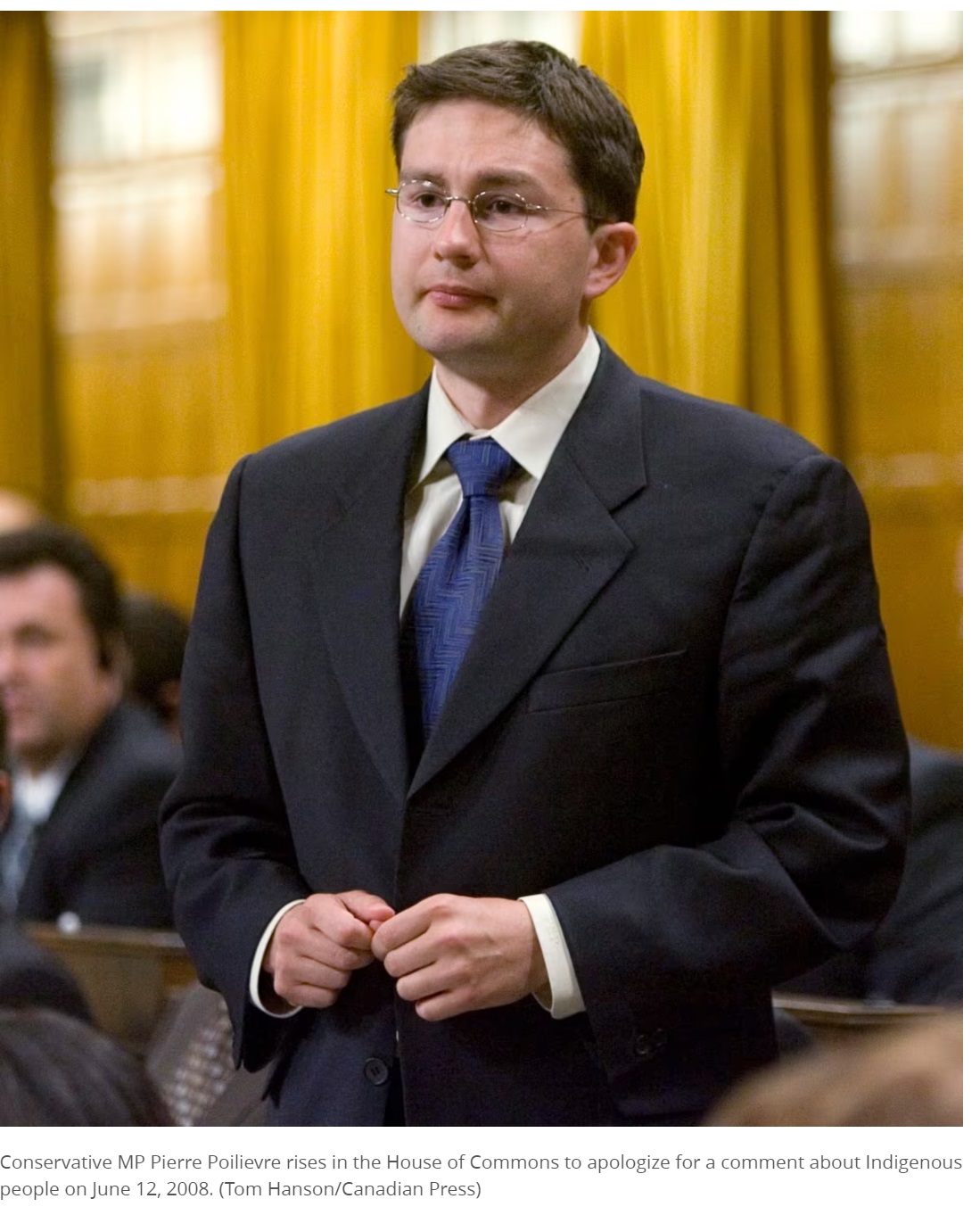 ut the Conservative insider and lobbyist said Poilievre and his team are clearly making a concerted effort to present a more casual, laid-back image to voters who may be leery of him.
Poilievre isn't the first conservative politician to adjust his image before asking voters to put his party in power.
Former Reform Party leader Preston Manning dropped the coke-bottle glasses and the ill-fitting suits when making a run for the country's top job.
Former prime minister Stephen Harper famously adopted sweater vests as a favoured fashion accessory to present a dressed-down, more domestic image to voters.
Poilievre's more recent predecessors, Andrew Scheer and Erin O'Toole, slimmed down ahead of their respective federal elections.
O'Toole took up running and pounded the pavement every day on the campaign trail. He showed off his new physique in campaign literature. The 2021 Conservative party platform featured a cover photo of O'Toole in a tight black T-shirt
Rogers said Poilievre could succeed where others failed because he's making a pivot so far out from the next election.
"You can't fatten a pig on market day. You can't do everything at the last minute. You can't suddenly become the perfect version of yourself weeks before an election and say, 'By the way, I'm now slightly better-looking, slightly more active,'" he said.
"Previous leaders have failed when they've done it because it was very inauthentic. They said, 'I'm embracing a cool new image,' but they clearly didn't look comfortable."
Laura Peck is the vice-president of Transformational Leadership Consultants in Ottawa. She has led seminars and coaching sessions with politicians and business leaders on image and communications for 30 years.
Peck said Poilievre's attempt at softening his image is a bid to win over sceptical voters who haven't warmed up to him and his attack-dog style.
She said the changes have "happened really quickly" and are "really noticeable" to keen political observers.
Peck said Poilievre's public speaking voice has also changed. He's speaking in a "a slower, more measured tone," she said — likely an attempt to woo voters turned off by the aggressive style he usually displays in the House of Commons.
"They probably did some focus group testing to figure out who their voter universe is. Where are the swing voters? The byelections didn't go so well for them, so they're really trying to pick up their vote. They're making a change to try and give the party an edge and accumulate more voters," she said.
"This is a brand strategy that all leaders go through. They just have to make sure Poilievre's brand is authentic. He has to be able to live with it when all of this is over."
https://www.cbc.ca/news/politics/poilievre-makeover-glasses-1.6911533
My comments on this story
Pierre Poilievre is trained in the art of "denial' and in particular, the denial called "reaction formation" where he tells his base
what his base want to hear, even when its all totally false.
In the short term, it means his base will believe what ever he tells him, however, while he wins the brainless end of the conservatives
he fails to convince the majority of Canadians with he words or his change in wardrobe or that make up
that seems to be increasingly applied.
Preston Manning and Stephen Harper had a degree of ethics that seems to be missing from Pierre Poilievre.
The problem is, the only conservatives with the ethics and potential to be PM are not yet able to
gain sufficient support from the conservatives who unfortunately see what they want to see and if they
don't, then they will turn on their leader , change his clothes, remove his glasses, and apply make up.
Unfortunately, it won't help him win the next election.
Note: I no longer post on CBC Comments due to CBC 3rd party "moderation" that panders to Russian Trolls.
Roger Townsend